---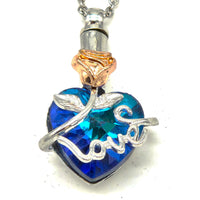 Cremation Jewelry Pendant | Iridescent Blue and Purple Heart with Love in script , Ashes Pendant with Necklace-Memorial Gift-Sentimental Keepsake-Ashes Jewelry
Quality Urns For Less
A beautiful ash Heart Shaped Cremation Jewelry Pendant  with the word "Love" in silver script . Includes necklace chain.
We ship from the US (no waiting a month for delivery).

Brilliant Iridescent Blue/ Purple Color. Adorned with the word "Love" and a silver heart.
A small screw at the top allows a small amount of ashes to be placed inside.
Satisfaction Guaranteed.
Length:    20

" necklace

Metal:      316L Stainless Steel
Losing someone close is very difficult. This lovely Pendant depicts a constant recognition of a loved one. The beauty of the pendant reminds us how precious life is.  Keep them close everyday with this beautiful ash pendant,
Select from our growing line of affordable cremation jewelry. 

This Mom Heart pendant opens to allow you to place a small amount of cremated remains inside. It can also be used to hold crushed flowers, a wisp of hair, dirt or sand from a memorable location, or any other tiny object you want to keep close to your heart.
Ships within 24 hours from our GA warehouse. If this is an "at need" item, please call us for assistance.
Ships from US (not from Overseas)..expedited service also available.